Welcome to Rangbhoomi Spaces, where creativity knows no bounds, and your private event becomes an unforgettable experience. Whether it's a corporate gig, a private get-together, an artist meet-up, a talk show, a private theatre play, a beauty pageant, or an award show, our venue provides the perfect canvas for your vision to come alive.
Corporate Gigs and Events: Impress your clients, partners, and employees with a corporate gig that leaves a lasting impression. Rangbhoomi Spaces offers the ideal setting for business events, product launches, conferences, and team-building exercises. Our state-of-the-art facilities ensure a seamless experience, leaving you free to focus on making an impact.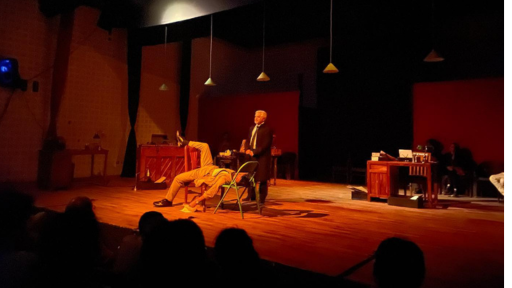 Private Get-Togethers and Social Gatherings:Celebrate life's special moments with style and elegance at Rangbhoomi Spaces. Whether it's a birthday party, an anniversary celebration, a family reunion, or any other social gathering, our venue caters to your every need. Our team will work closely with you to create a personalized ambiance that reflects your unique tastes and preferences.
Artist Meet-Ups and Creative Retreats:Artists deserve a space to connect, collaborate, and create magic together. Rangbhoomi Spaces becomes the perfect haven for artist meet-ups, creative workshops, and retreats. Our vibrant community of artists provides an inspiring backdrop for exchanging ideas and nurturing artistic growth.
Talk Shows and Panel Discussions:Foster meaningful conversations and intellectual exchanges at Rangbhoomi Spaces. Our venue is equipped to host talk shows, panel discussions, and thought-provoking forums. Whether it's a TED-style talk or a debate on current affairs, our space encourages engaging dialogues and critical thinking.
Private Theatre Plays and Performances:Experience the thrill of live theatre in an intimate setting at Rangbhoomi Spaces. Our venue provides the perfect stage for private theatre plays and performances. Whether it's a dramatic play, a comedic masterpiece, or a musical extravaganza, our state-of-the-art facilities ensure a seamless production.
Beauty Pageants and Award Shows:Elevate the glamour and excitement of your beauty pageant or award show at Rangbhoomi Spaces. Our versatile stage and lighting setup create a mesmerizing atmosphere, setting the stage for a night of elegance and celebration.
Book Your Private Show:Booking a private show at Rangbhoomi Spaces is simple and hassle-free. Share your event requirements and preferred dates with us, and our dedicated support team will work closely with you to ensure a seamless experience from planning to execution.
Rangbhoomi Spaces is more than just a venue; it's a partner in crafting unforgettable experiences. Whatever your vision, from corporate gigs to private theatre plays, we provide the canvas for your event to shine. Let us elevate your special occasion with our top-notch facilities, personalized services, and a touch of artistic flair. Book your private show at Rangbhoomi Spaces and create memories that will be cherished for a lifetime.