Step into the magical world of cinema at Rangbhoomi Spaces, where stories come alive on the big screen. Whether you're a filmmaker, a film enthusiast, or a film club looking to showcase your latest creation, we offer a state-of-the-art space to screen feature films, short films, independent films, and even classic Bollywood gems. With our top-notch projector and expansive screen, your cinematic vision will be brought to life with unparalleled clarity and impact.
Rangbhoomi Spaces is a cultural haven that celebrates the beauty of cinema. Our dedicated screening space is designed to provide the perfect ambiance for audiences to immerse themselves in the magic of storytelling. Whether it's an intimate gathering of cinephiles or a large-scale public screening, our venue is equipped to cater to your screening needs.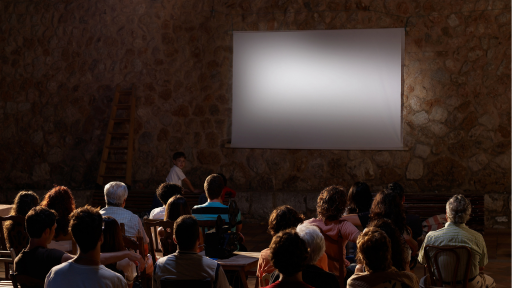 For filmmakers seeking to showcase their magnum opus or their latest short film, Rangbhoomi Spaces is the ideal destination. Our screening space is equipped to handle feature-length films with precision and detail, capturing every nuance of your creation. Short films, on the other hand, find a perfect platform to leave a lasting impact on the audience in an intimate setting.
At Rangbhoomi Spaces, we celebrate the diversity of cinema. Independent filmmakers find a supportive space to showcase their unique narratives, while classic Bollywood enthusiasts can relive the golden era of Indian cinema in all its grandeur. Our versatile screening space is capable of accommodating various genres and styles, making every film screening a memorable event. Booking a film screening at Rangbhoomi Spaces is easy and hassle-free. Whether you're an individual filmmaker or an organization, simply reach out to us with your preferred screening date and film details. Our team will assist you in coordinating all the technical aspects, so you can focus on presenting your film to an engaged audience.
Rangbhoomi Spaces invites you to be a part of the cinematic experience like never before. Book your film screening at our venue and immerse yourself in a world of cinematic brilliance. Whether it's a poignant independent film or a nostalgic Bollywood classic, let the screen come alive with stories that touch hearts and leave audiences in awe. Together, let's celebrate the power of cinema and create memorable film screenings that resonate with cinephiles for years to come.