Are we ready to embark on a transformative journey into the captivating world of theatre and acting? Prarambh, a 50-day production-oriented workshop, awaits to ignite your passion for the performing arts and unleash the actor within you. This immersive experience will take you through a comprehensive curriculum that covers the fundamentals of theatre, voice exercises, movement exercises, characterisation, improvisation, and much more. With a focus on experiential learning and hands-on performances, Prarambh promises to be a transformative and unforgettable adventure.
Prarambh is more than just an acting workshop; it is a journey of self-discovery. Through a carefully curated series of exercises and activities, participants will become more aware of themselves, exploring their emotions, and understanding the power of touch and energy in performance.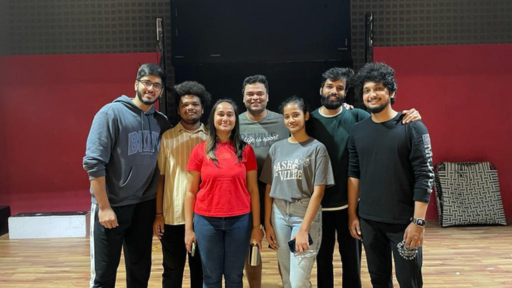 This journey of introspection sets the foundation for authentic and powerful storytelling on stage. Under the guidance of seasoned theatre professionals, participants will dive deep into the basics of theatre and acting. Voice exercises will enhance vocal resonance and expression, while learning the nav-rasas (nine emotions) will enable a profound understanding of emotional depth in character portrayal. Movement exercises will enhance physical expression, enabling actors to communicate without words. Characterisation is at the heart of acting, and Prarambh will offer valuable insights into developing well-rounded and compelling characters. Through various exercises and techniques, participants will learn to embody and bring to life diverse personas. Improvisation exercises will foster spontaneity, creativity, and the ability to think on your feet, essential skills for any performer.
The workshop isn't just about hard work; it's also about having fun and building connections. Prarambh will include team-building exercises and engaging theatre activities that foster collaboration, camaraderie, and a sense of community among participants. Together, you will explore the joy of theatre and its ability to unite people from diverse backgrounds.At Prarambh, theory meets practice, and participants will have the opportunity to showcase their newfound skills in multiple performances throughout the workshop. These performances will be the culmination of weeks of learning and growth, providing participants with invaluable real-world experience and the chance to captivate audiences with their talent.
Prarambh is more than just a workshop; it's an invitation to explore your artistic potential, dive deep into the nuances of acting, and embrace the magic of theatre. Join us on this 50-day transformative journey of self-expression and storytelling. Together, let's set the stage for unforgettable performances and create memories that will resonate with you for a lifetime. Book your spot at Prarambh today, and let the curtain rise on a new chapter of artistic brilliance and personal growth.