Passionate about the world of theatre and eager to learn the art of performance? Rangbhoomi Spaces offers you the perfect opportunity to explore the captivating realm of theatre with our expert instructors. Whether you're an individual looking for personal growth, a group seeking to bond through theatre, or a school/college aiming to enrich your students' artistic journey, we have tailor-made theatre workshops to cater to all.
Theatre for Individuals: If you have a burning desire to express yourself on stage, our individual theatre workshops are designed to nurture your talent and build your confidence as a performer. Our instructors are experienced professionals who will guide you through the intricacies of acting, voice modulation, stage presence, and more. Unleash your creative potential and discover the transformative power of theatre.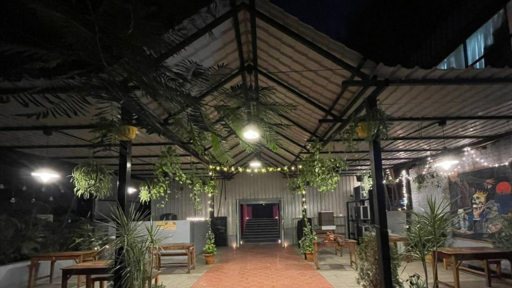 Group Theatre Workshops:Are you part of a team or an organization seeking to strengthen bonds and foster effective communication? Our group theatre workshops are an ideal way to cultivate teamwork, collaboration, and empathy. Through engaging activities and theatrical exercises, our instructors will facilitate a space where participants can connect on a deeper level, building trust and understanding.

Theatre for Schools and Colleges: Rangbhoomi Spaces believes in nurturing young minds and encouraging artistic exploration in educational institutions. Our theatre workshops for schools and colleges provide students with a platform to express themselves, develop their creativity, and build essential life skills. Let our instructors inspire your students and enhance their self-confidence as they take center stage.
Expert Instructors, Rich Experience:At Rangbhoomi Spaces, we take pride in our team of seasoned theatre instructors. Their passion for the performing arts and wealth of experience will ensure that every workshop is engaging, inspiring, and transformative. Whether you're a beginner or have prior theatre experience, our instructors will tailor the sessions to suit your needs and aspirations.
Book Your Theatre Instructor:Booking a theatre instructor with Rangbhoomi Spaces is a seamless process. Let us know your requirements, the size of the group, and the preferred dates for the workshop. Our support team will work closely with you to ensure a customized and enriching theatre experience for all participants.
Rangbhoomi Spaces invites you to step into the enchanting world of theatre with our expert instructors by your side. Whether you're an aspiring actor, a team seeking to enhance collaboration, or an educational institution nurturing young talent, our theatre workshops have something for everyone. Discover the magic of storytelling, the joy of performance, and the transformative power of theatre. Book your theatre instructor with Rangbhoomi Spaces and let the curtains rise on a journey of artistic brilliance and personal growth.